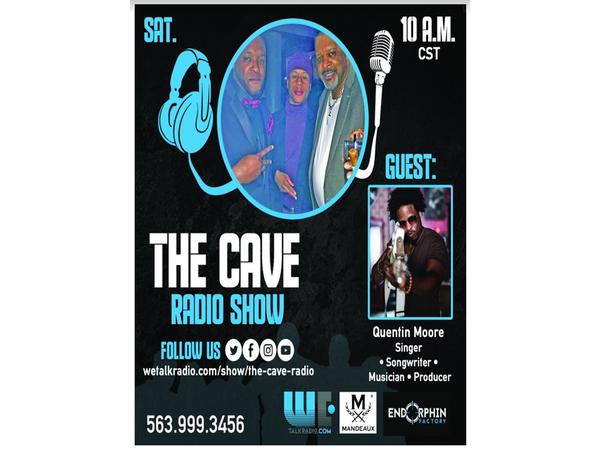 The Cave Radio Show feat. Singer/Songerwriter Quentin Moore
Quentin Moore is the sexy prototype for neo-retro soul music with roots in Austin, TX and wings in international skies. He is a composer and multi-instrumentalist with the talent, versatility, and sex appeal of legends in the music industry, such as D'angelo, Curtis Mayfield, Prince, Al Green, Earth, Wind and Fire, and Marvin Gaye. 
After playing sold out shows in over 20 countries, (including Russia, UK, Japan, and India), breaking the top 10 spot on the UK Soul Chart for his most recent album, Black Privilege, Winning a total of 5 Dallas local awards Including Best Funk/R&B Act, Best Vocalist, and Best Album (Black Privilege), his smash single, Natural Sista, charting #1 on the UK Soul Chart for six weeks, and raising over $40,000 from loyal fans to help fund his music projects and concerts, and his viral music videos gaining the attention and praise of Snoop Dogg, Jamie Foxx, and Lil Jon, Quentin remains that loveable character who is always the life of the party. Whiskey Riff (a popular Country Music blog) once said, Q.Moore's sexy voice and music "will get you pregnant!" He brings that energy to the stage that is unmatched and truly memorable.
Quentin has been blessed to share the stage with musical icons such as Chaka Khan, Los Lonely Boys, Buddy Guy, Lalah Hathaway, Robert Glasper, Kindred and the Family Soul, and Tweet, to name a few. 
He said, "Know my words and you will know me." His words ring true when he writes those grooves that make you move. He knows that thing that keeps you coming back for Moore.