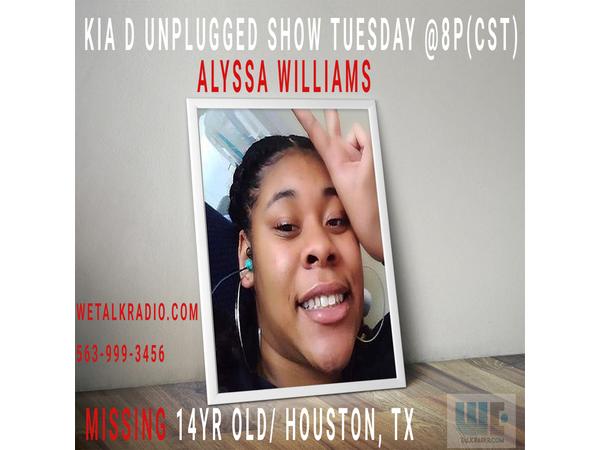 The Kia D Unplugged Show feat. Where is Alyssa??
There is a $25,000.00 reward for the safe return of the young Alyssa Williams (14), from Houston, Texas. She vanished from the supposed safety of her home on November 5, 2020, and the Houston Police Department has literally told her family that they WILL NOT expend departmental resources on the search for this young black child. There has been little to no attention given to her disappearance, and the idea of a black family being told outright by the Houston Police Department that their 14 year old child is not worth the resources of searching for her should infuriate every black family in America to the point where that department, the Mayor's office, the Governor's office, all news channels, and the FBI are deluged with perpetual inquiries about this beautiful young black child (girl), because "HER LIFE MATTERS" more than the skunks who suggested that she wasn't even worth investigating.
Please flood the Houston Police Department with calls until a thorough search and investigation into the disappearance of the young Alyssa Williams (14 years old) is underway.
Police: (713) 884.3131 : (832) 394-1840
Houston FBI: (713)693 5000
Mayor Sylvester Turner: 311 or 713.837.0311