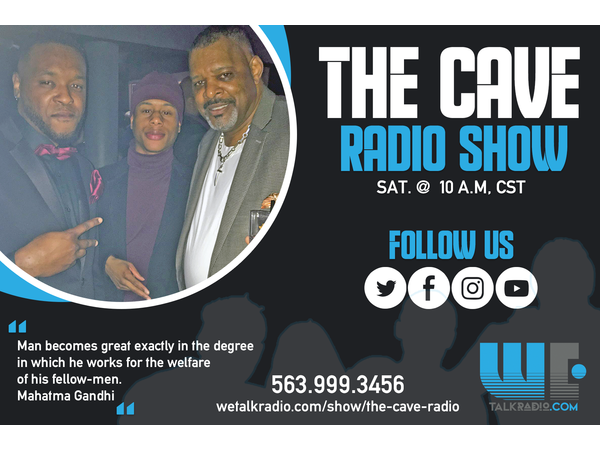 The Cave Radio Show feat. Singer/Songwriter Kalvin Kosha
Calvin "Kalvin Kosha" Fitzgerald, Houston, TX native, born December 19, 1995, is a Recording Artist, Singer/Songwriter, Actor, Entrepreneur, Influencer, and Graduate of Prairie View A&M University. He is represented by the Upward Artistry Talent Agency.
As a young boy, singing and performing for churches, schools, and the Houston Children's Chorus led him to paid and promotional gigs in Houston, TX and Louisiana during his adolescent years. He began recording music in the 10th grade with cousins.
He's performing LIVE for concerts as notable as the Gulf Coast Soul & Comedy Fest featuring Frankie Beverly & MAZE, Anthony Hamilton, and K Michelle, to Birthday Bashes for notable artists such as Ginuwine, Tank, and CASE.
His debut album, "Pressure", (released under Do-WAP Records), brings the fusion of sexy R&B, Pop, and Hip-Hop, to highlight the pressures of love and life in various aspects. Nineteen (19) tracks will thrill you with Romance, Dance, and Appreciation for Life and those you love. Collaborations include "Black Magik", featuring Hip-Hop lyricist and reality TV Star, Jazz Anderson, "I Need A Dyme" ft. Fly Boi Keno, songs with Marquo, Gloria Prince, Jeff Shelley, Heph B, and Rodeo (produced by DJ CHOSE).
Honeywater Moscato is Kalvin Kosha's debut and most prized flavor. Kalvin Kosha's moscato is the manifestation of his favorite beverage, hot water + honey, inspired by childhood memories of drinking herbal tea with his grandparents, into the form of a wine. https://kalvinkosha.com/product/honeywater-moscato-bottle