10 Movies and TV Shows to Watch During Drug and Alcohol Awareness Month
9/03/2021
By: Aaron Kaushal
Edited by: Kaitlin Graham
1. Shameless

Shameless is a Netflix comedy-drama about a dysfunctional group of siblings who are trying to cope with their alcoholic father. The show does a good job of portraying how addictions such as alcoholism can affect the entire family. Spending his money on drugs and alcohol rather than supporting his family is a common theme throughout the series.
2. BoJack Horseman
BoJack Horseman is an animated Netflix series that tackles themes of  alcohol and substance abuse. The constant substance abuse by the main character, BoJack, ends up causing a lot of problems for him throughout the series., making it very clear that substance or alcohol abuse can lead to individuals making terrible decisions. Having to cope with depression as a result of this abuse is another theme that can be seen throughout the series as well.
3. Euphoria

The HBO Series Euphoria follows Rue, a 17 year old drug addict who just got out of rehab. Rue and her friends go through high school, going through experiences of drugs, depression, friendships, love, and identity. The series did well when it came to tackling these themes. It follows a teen dealing with mental illness and her addiction to drugs which she sees as an escape. Rue's character was created with these themes in mind in order to spread awareness to viewers. It shows the struggles an addict faces in their life and how it affects their future.
4. Requiem For a Dream
Requiem For a Dream is a psychological drama that depicts various types of drug addiction each leading to different outcomes for the characters. The main characters are addicted to heroin. The movie itself was seen as an effective anti-drug PSA. The movie follows the stories of four main characters who deal with failure throughout. The characters had big dreams, but ended up not being able to achieve them due to their addictions.
5. Mom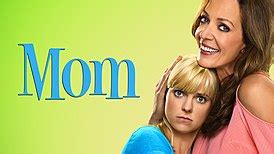 Mom was a CBS comedy centered around addiction. It explores the life of Christy, a recovering alcoholic and single mother. It follows her struggles and triumphs as a recovering addict. This series showed viewers how much your life can change if you overcome an addiction. Viewers have claimed that the series helped them stay sober in their recovery as well.
6. Flaked
Flaked is another series that follows an alcoholic. The series takes on themes of addiction in an interesting way. Many scenes take place in 12-step meetings, which is a program to help people recover from addiction. The series seems like it urges viewers to deal with their own addictions, as well, by attending these meetings and seeing how beneficial it can be for their health.
7. Patrick Melrose
Patrick Melrose is another series that accurately shows the dangers of addiction. The recurring theme throughout is that if you do not deal with an addiction it will only continue to get worse and worse. It covers the dangers of addiction as well as the negative effects it can have on one's life. It demonstrates that it is important to get help early on.
8. Nurse Jackie
Showtime series Nurse Jackie educates viewers on many aspects of addiction and recovery. Loving someone with an addiction can be painful for both people involved. Being able to help someone with recovery is an important step in getting over an addiction, which is seen throughout the series. The series focuses on helping viewers understand that they are not alone and there will always be help available for them if they choose to accept it. The series also goes against the stereotype that addicts are failures in life, because many successful people may hide addictions.
9. Intervention
Intervention is a docuseries about addicts trying to overcome their addictions with the help from their families and friends. This is a truly hard hitting series with each episode following a different addict, who are told they are being documented for their addiction, but in reality they are the subject of an intervention. It is interesting to see the role friends and family can play in helping an addict recover. It has been extremely popular as viewers have also claimed that the series helped them overcome their own addictions.
10. The Basketball Diaries
The Basketball Diaries is a 1995 crime drama following the life of Jim. Jim is a high-school basketball star on the surface, but a heroin addict behind closed doors. Dealing with the stress of high school, family, and his coach's expectations, he turns to drugs. This movie explores the realities of a high school addict and the struggles they face. Ultimately, Jim receives help from a friend in order to try to recover from his addiction.